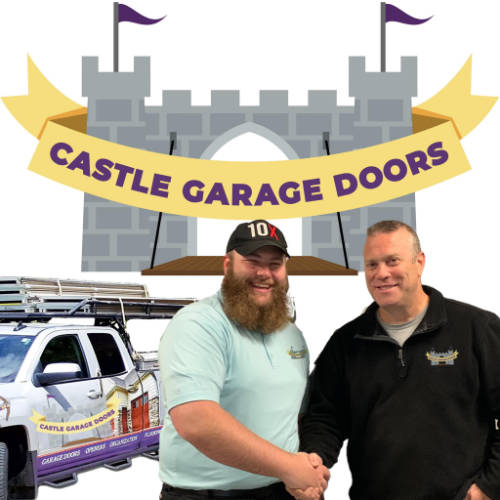 Castle Garage Doors History
Complete Garage Solutions, Akron
In July 2014, Scott Barker embarked on a journey in the realm of garage door repair and installation by establishing Complete Garage Solutions. Over the course of eight successful years, the company operated from Arlington Road in the Akron area, establishing a strong presence in the industry.
Then, in 2022, an exciting development emerged when Nathan Revesz approached Scott Barker with a vision for expanding their venture into the realm of garage doors. Recognizing the potential for growth and synergy, they decided to join forces and create a dynamic partnership. As part of this transformation, they acquired Complete Garage Solutions and introduced a fresh identity, rebranding their endeavor as Castle Garage Doors.
Today, Castle Garage Doors proudly serves the North East Ohio community, with its headquarters located at 61 S Seiberling Street in Akron. With a dedicated team of nine employees and a fleet of four trucks on the road, they continue to provide top-notch garage door solutions and exemplify excellence in their field.
Lincoln Garage Door, Strongsville
As of October 2023, Castle Garage Doors welcomed a valuable addition to their team - Adam, hailing from Lincoln Garage Door. Adam brings with him a wealth of experience and knowledge, deeply rooted in the garage door industry. His family has maintained a longstanding legacy in Strongsville, where they have been actively engaged in garage door operations for an impressive span of over three decades. Adam's expertise is a testament to Castle Garage Doors' commitment to providing unparalleled service and fostering a tradition of excellence in their field.
Castle Garage Doors Future
Our commitment to quality has earned us the trust of our customers who have referred their family and friends to us for their garage improvement needs. We take pride in the fact that our customers have had positive experiences, are satisfied, and believe they have partnered with professionals they can trust. This is the highest compliment possible and it motivates us to continue providing high-quality services to our customers.
We are the area's best-reviewed garage service business for dependability, service, and support, we have an A+ rating with the Better Business Bureau and are top rated on HomeAdvisor. When you choose Castle Garage Doors, you can trust us to provide transparent pricing with no surprises, prompt service with expert technicians, industry-leading warranties for added peace of mind, maintenance plans for ongoing support, and a satisfaction guarantee on all our work.
Our Commitment to Quality
Transparent pricing with no surprises
Prompt service and expert technicians
Industry-leading warranties for added peace of mind
Maintenance plans for ongoing support
A satisfaction guarantee on all our work
Trust Castle Garage Doors for all your garage door needs and experience our commitment to quality, professionalism, and customer satisfaction. Contact us today at 330-778-1169 to schedule an appointment or learn more about our services.